Background
Leslie O'Dell, OD, focuses on the management of ocular disease including glaucoma, dry eye and diabetic eye disease as the Clinical Director of Medical Optometry America in York, Penn. She is the optometrist for the MOA Shrewsbury, Penn., location.
Leslie O'Dell is thrilled to be leading the first practice location for Medical Optometry America (MOA). Their organization's long-term goal is to transform the profession by moving away from a refractive-based model and helping ODs practice to the full extent of our licensure to provide the important medical eyecare services patients need. Long-term, her practice's experience is helping to pave the way for future MOA franchise locations and how they can leverage the Uprise EHR and Practice Management platform to maximize their effectiveness.
Short-term, Uprise has been a critical piece of the puzzle for successfully starting Dr. O'Dell's first practice cold. The customization and functionality helped her scale their medical side as we build their patient base.
Customization is Key
Dr. O'Dell had the opportunity to practice in a variety of settings that all employed EHR systems, including hospitals, an integrated MD/OD practice, and a private OD group setting. All the platforms were different, however, the common theme among them all was a lack of customization. Her practice was changing the mold of optometry to being medical-based, so they need a platform that adapted to their needs quickly. Uprise provided customization which was imperative to practicing medical optometry.
Through the range of embedded tools offered, Dr. O'Dell continues to learn more about the future potential of Uprise. Dr. O'Dell states, "I love the connection to NewCrop for ePrescribing and the ability to import medication lists with the push of a button. Also, the unique treatment code mapping function is a time-saver and helps to keep consistency in my care for chronic diseases."
Furthermore, the ability to customize the patient questionnaire to reflect questions for the COVID-19 screening was a huge, timely benefit. O'Dell has also been doing a fair amount of telemedicine. Because Uprise is cloud-based, it allowed her practice to be nimble and schedule telemedicine appointments when and where needed.
Devices & Doctor Referrals Made Simple



Medical device integrations were a key attribute critical to O'Dell's selection of the Uprise platform. Technology is the foundation of Medical Optometry America and being able to integrate images and data at the touch of a button made moving from patient to patient in a busy practice seamless.
Secure e-mail messaging and e-faxing are ideal for communicating doctor or hospital referrals. Primary care physicians are searching for this secure method of communication from referring providers, so having it included in O'Dell's system has allowed for practice growth.
Efficient Medical Exams & Training
The interconnectivity of the platform helped O'Dell get through a medical exam more efficiently. If a clinical finding entered in the chart, it automatically carried through the assessment and treatment plan section. The templates allowed her to easily link billing codes common for that office visit and simplify the check-out process.
Let's face it – all change is challenging, but changing an EHR can really be a daunting endeavor. Fear of lost time and revenue due to staff training and transfer of data for continuity of care can be intimidating. However, O'Dell states, "the Uprise implementation team was outstanding by troubleshooting immediately, providing the much-needed guidance, and walking us through solutions to challenges large and small. Also, it was ideal that we had time to build staff familiarity with the system before we opened our doors."
---
Software You Can Trust
An EHR and Practice Management system that is robust and flexible enough to grow with you practice. Uprise was designed as an all-in-one solution for the modern, adaptable practice.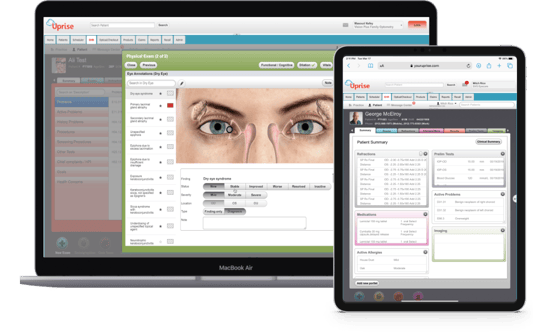 Ready to learn more?
Fill out the form to right to get in touch with our team and we'll help you determine if Uprise is the right fit for your practice.