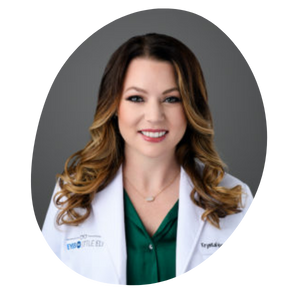 Krystal Hoover, OD, grew up in a household where entrepreneurship was a way of life for her family as her parents have their own business. Inheriting the same work-ethic mindset, she envisioned herself opening a private practice in the future, and she accomplished exactly that two years after graduating from Nova Southeastern University College of Optometry in 2018. With her husband, John Hoover, she opened Eyes on Little Elm in Little Elm, Texas, in 2020. Opening a cold-start practice was not an easy task, especially in the middle of a pandemic, but she is happy to have made it through the first year and grateful to her patients and surrounding community for trusting her office with their eyecare.
Reducing Chart Times
When a group of advisors recommended Uprise EHR & PM software to Dr. Hoover, she was immediately attracted to its customizable exam templates and treatment code mapping after a live guided demo.

"Usually, it takes me several days to complete charts, but having access to treatment plans for different types of diagnosis saves me a lot of time," she says. She finds herself saving time with the treatment code mapping, which provides her the ICD-10 code and treatment plan based on the severity of the condition. It's one less thing to type out and one less thing to carry over into the next day.

For the busy days, the entirely cloud-based system allows Dr. Hoover to login to the EHR system at home. "It was a huge bonus during the pandemic when I could finish charting in the comforts of my home," she says. It is also nice being able to log into the system from anywhere anytime.

There is also an environmentally friendly aspect to Uprise, which eliminates prescription notes in addition to paper charts. "I can send prescriptions to pharmacies directly through the system, and patients don't have to wait at the front desk to get a physical copy," she says. There is also a letter template system, where she can send follow-up letters to primary care physicians for reports and referrals.
Being Smart with an All-in-One Software

With the data from a number of frame vendors preloaded into Uprise, Dr. Hoover finds herself saving time during inventory. "If I carry any of the 40,000 frames included in FramesData, I can simply bulk import frame manufacturers that we carry and automatically add them to my catalog. It's a game-changer and saves so much time rather than manually entering the frame data for every frame we want added to inventory," she says.

In addition, she does not have to worry about losing any patient information during data transfer, because her refraction system is integrated into Uprise. "All of my pretesting and refraction data are automatically uploaded to Uprise," she says. The software includes useful tools like a customizable scheduler, reports and an online patient portal.
Getting Patients into the Fast Lane
Uprise helps Dr. Hoover greatly reduce the amount of time patients spend in the waiting room, which in turn means the practice staff doesn't have to worry about social distancing and crowds. "My staff and I direct patients to the patient portal where they can fill out paperwork and questionnaires online before they come into the office so that they're in the fast lane upon arrival. It's a win-win for everybody," she says.

Since patients generally have access to their medication lists more handily at home, the documentation is often more complete as well. Dr. Hoover's staff can spend less time on the phone and computer and focus more on other administrative or general office duties. Uprise works with other software programs that also send automated emails and texts to patients for appointment reminders and recalls. The recall system has been a huge help to Eyes on Little Elm, which currently has a total of two staff members, including Dr. Hoover's husband.

Patients who need access to their prescriptions do not have to worry about making a trip to the office. "My patients love that they have access to their prescriptions in the patient portal 24/7, receiving help from us even beyond office hours," Dr. Hoover says.
A Worry-Free Pregnancy Leave
When Dr. Hoover took a short maternity leave a year after opening, she was able to leave the office to her optician, who had newly joined the team. Dr. Hoover expected multiple phone calls for help, but to her surprise, she did not receive even one. "My optician picked up the system really quickly because of how user friendly the system is and the wealth of support videos available. From submitting claims to ordering materials, she did not run into any trouble even though I was able to give her only minimal training, prior to taking a short leave," she says.

Uprise takes care of that, she says. "The support we receive is phenomenal. In the beginning, we had an implementation specialist available to us before we went live with the system and for several months after helping us use the software to its full potential. Once we were comfortable, we were transitioned from a sole trainer to Uprise's customer service, and we were further supplemented with several how-to videos as well," Dr. Hoover says.

Uprise does not only help the clinical side, but it also streamlines the coding and billing, creating a smooth handoff between the exam lane to the front desk. "Once I click the ready for billing button on the exam side, my staff members have access to the procedure codes on the front end. The claim is ready to be submitted, and both my staff and patient have a smoother checkout process," she says.
Expanding with Uprise
It has been just over a year since Dr. Hoover started with Uprise, and the user experience is always improving, she says. There are routine updates that make it more user-friendly, require fewer clicks or fix any technical glitches. She plans on expanding to multiple locations in the future and she knows she will bring Uprise to those offices. "Uprise is the way to go as a cold-start practice owner due to the support you receive and how easy and simple it is to navigate through the whole system," she says.
---
Software You Can Trust
An EHR and Practice Management system that is robust and flexible enough to grow with you practice. Uprise was designed as an all-in-one solution for the modern, adaptable practice.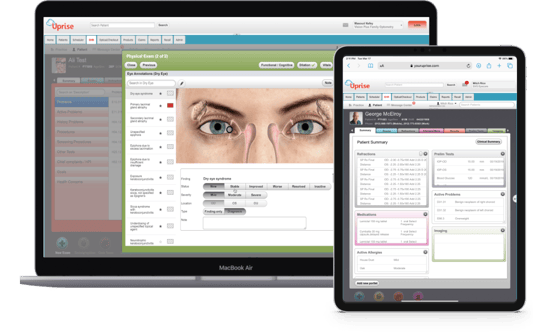 Ready to learn more?
Fill out the form to right to get in touch with our team and we'll help you determine if Uprise is the right fit for your practice.