Background
In 1983, Dr. Castleberry founded Plano Eye Associates. Today, they are a multi-million-dollar practice with four optometrists, a 7,000 sq. ft. building with a 2,000 sq. ft. optical store, and 15 examination and treatment rooms with all the technology an eyecare provider could want.
Their practice mission is to restore sight by providing the highest quality medical, surgical and optical eyecare for their patients in a high-technology environment providing a unique patient experience. Dr. Castleberry likes to refer to it as a no-which-is-better-one-or-two and no-forms-to-fill-out practice.
All Dr. Castleberry ever wanted in practice was an unfair advantage, and technology integration has provided just that. As an EHR pioneer, Dr. Castleberry began his paperless office journey in 1985. Over 30 years later, he can tell you the primary reason for his practice success has been technology integration. That being said, he believes there are four ways the right EHR software can give your practice an unfair advantage, too.

1. Fully cloud-based software, giving you 24/7 access
Having an EHR that is in the true cloud is important; It is the thing Dr. Castleberry loves most about Uprise. A patient can call him when he's in the middle of the Pacific Ocean on his sailboat off the coast of Newport Beach, and he can pull up their chart then and there, do a full drug check, and order a solution for his patient. The convenience of easy access to his software on the go makes a healthier work-life balance more achievable.
2. Enhance your workflows with SmartTouch EHR
Uprise EHR was designed to reduce keystrokes, saving time to be focused on the patient. With SmartTouch EHR℠, severity-based problem selections document findings, assessment, treatment plan with special testing, orders, and I&R automatically. Moreover, the CPT/ICD pairs are assigned to the correct insurance company and ready for billing and claims processing. Dr. Castleberry doesn't even need a coding or billing specialist in his office. His staff doesn't know anything about filling out a claim because they don't have to; if you use Uprise as designed, you don't need an insurance staff.
3. Simplify your inventory with integrated product catalogs
The surprise feature for him was how VisionWeb's catalogs of lenses, frames, and contacts allow easy lab ordering, lens pricing, and inventory management. He's looking forward to the contact-lens ordering platform coming to Uprise soon allowing patients and staff online automated contact-lens ordering 24/7.
4. Provide a unique patient experience with a robust patient portal
The Uprise patient portal is one of a kind in this industry and is a convenient and secure way for your patients to manage their healthcare and interact with your practice. You can simply send information from the appointment to your patient's portal including their prescriptions or patient education videos so they can easily view it at home. Your patients can quickly send secure messages and request appointments through the portal as well.
---
Software You Can Trust
An EHR and Practice Management system that is robust and flexible enough to grow with you practice. Uprise was designed as an all-in-one solution for the modern, adaptable practice.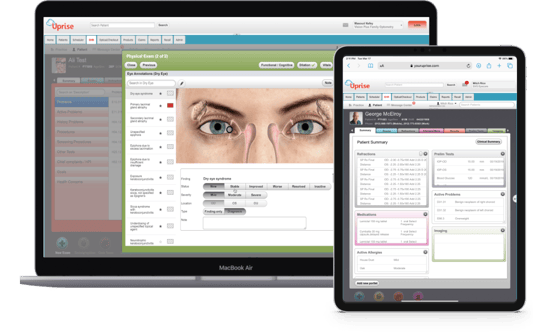 Ready to learn more?
Fill out the form to right to get in touch with our team and we'll help you determine if Uprise is the right fit for your practice.