Background
For many optometrists, local laws or corporate leases are requiring that practices only stay open for emergency or special cases while the nation is in a declared state of emergency.
Although Dr. Barker's ODs and staff are required to stay home when they can, her practice successfully implemented a few ways to provide patient care remotely through telehealth. Telehealth services encompass responding to a patient's queries and delivering diagnoses through recorded videos, photos, phone calls, and two-way video calls.
Traditionally, telehealth or telemedicine was feared as an ineffective alternative to an in-practice exam. However, the current climate called for Dr. Barker to adapt and nurture agility within their team. ODs that don't attempt to offer alternative care might be overlooking the long-term opportunities that telehealth makes room for, especially during future exceptional situations like the one we are currently facing.
Set Up a Remote Care Schedule

As an early adopter of telehealth, Dr. Barker already saw the benefits of incorporating remote care into her workflow. Remote patient care was interesting and pushed her practice to be creative and quick on their feet. Her practice is open for urgent and emergency care in-person as well as available remotely. They reduced their hours in the office with a limited team onsite from 10 a.m. to 4 p.m.
Additionally, she was able to set up 10 team members at home to limit the number of people physically in their office at one time. They met their patients' demands with an emergency on-call line available 24/7 along with telemedicine visits offered daily. It was important that they continued to be available in some way to our patients and to reassure them that they were ready to help.
Leverage Online Tools & Software



Dr. Barker's practice was able to transition into remote care more easily using the patient portal in Uprise, cloud-based EHR, and practice management software, to determine the needs of the patient without putting her staff at risk. For example, red eyes, allergies, swollen lids, or injuries can start as an e-visit. If it is something that her practice can manage through a synchronous visit that is great, but if a face-to-face visit is necessary then they would have to schedule a visit with the onsite doctor.
Tools used completely remotely allowed her staff to set up telemedicine or in-office appointments, order contact lenses, send patient education and collect payment from their homes. Dr. Barker states, "I have been very thankful for Uprise EHR over the past few weeks. Scheduling patients, accessing data, and telemedicine has been easy to adjust to and overall seamless during this time."
Dr. Barker goes on to say, "virtual credit card machines have made collecting payments very simple. We use several different apps that allow us to communicate offsite with team members in the office all day long. I have been amazed to see how much we have learned to use our different products so easily from remote sites."
Patient Awareness & Marketing
Most optometrists are reasonably worried about not seeing enough patients in order to keep their practice financially stable. To keep a busy schedule, Dr. Barker began their telehealth launch by promoting awareness through patient communication tools available in their practice management system.
They sent telehealth e-mail blasts to their established patients and used all our social media platforms like Facebook and Instagram to educate and inform their patients to make sure that patients know all their options. When patients called their office, telehealth was offered as an alternative to help with social distancing. Due to their diligence, they didn't experience a complete halt to patient flow. They had telehealth visits every day. In general, Dr. Barker's patients were receptive and enjoyed interacting with the doctors through telemedicine.
Looking Forward
Some practices might be unsure whether telehealth could be a viable option for them due to limited software or staff. Dr. Barker believes, "there is a place for telemedicine in all practices. It is a great option for certain medical visits like red eyes, allergies, lid concerns, and more. The fact is that you can only do so much through telemedicine, so it is an adjunct to her everyday practice. It is not a standalone solution."
With the assistance of an agile team and cloud-based technology, telehealth can be a strong addition to practices even after shelter-in-place mandates are lifted. Offering telehealth could also create opportunities to serve patients who are unable to leave their homes and those who live in expansive rural communities, and employ optometrists that are home-bound or traveling.
Dr. Barker thinks the adversity pushed her practice to broaden its patient care methods. The pandemic forced their team to learn how to incorporate telehealth from scheduling, creating encounters, billing, and connecting with patients. She says they will gladly continue to offer telehealth moving forward to serve certain patient needs.
---
Software You Can Trust
An EHR and Practice Management system that is robust and flexible enough to grow with you practice. Uprise was designed as an all-in-one solution for the modern, adaptable practice.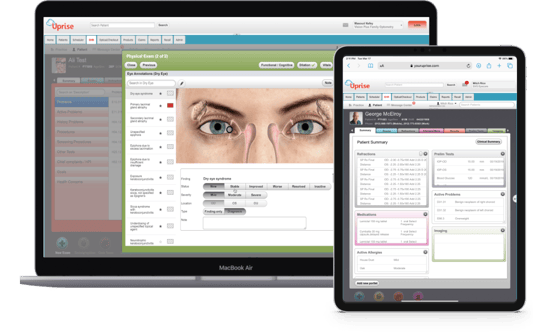 Ready to learn more?
Fill out the form to right to get in touch with our team and we'll help you determine if Uprise is the right fit for your practice.