Background
Erika Morrow, MS, OD, opened her practice, ForSight in Savannah, Georgia, in August 2019. For the first three weeks, she was doing everything on her own. "I worked front and back and did the billing at home at night," she says. "I had trained one staff member for four weeks prior to opening, but she quit the day before opening day."
She discovered that while it seemed like the bills were going out on time, the payments weren't being posted and the rejected claims weren't being worked. "Our accounts receivable (AR) was just growing," she says.
When the COVID-19 pandemic began, Dr. Morrow decided she would use the slower schedule to try to catch up, but the process was intimidating and huge. That's when she remembered a conversation that she had when she first opened with her consultants at iCare Advisors. They had a program in place for their cold start clients with VisionWeb's Revenue Cycle Management (RCM) services. "At the time, I was thinking I could do this on my own, but I quickly realized that was not realistic as my AR was approaching $90,000. It was obvious, I needed help from someone who knew what they were doing."
Immediate Improvements
In retrospect, she wishes that she had made that move right from the start, as she saw an immediate $10,000 increase in revenue in the first month. "I did have to write off some of my oldest accounts, but the team at VisionWeb helped me get my AR down to $3,000 and it is still shrinking," she says.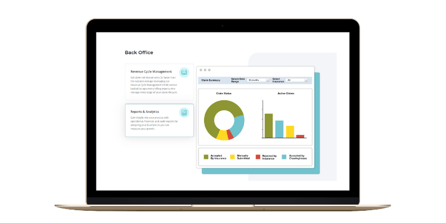 "There's no question that I'm continuing with this service," she adds. Revenue cycle management is so complex, and working with VisionWeb makes it so easy. "My staff on the front end does the verification and authorization, and my optician manages the billing for eyeglasses. VisionWeb posts all the payments, and once a month we send patient statements. My patient care coordinators work through the updated list of patients who owe, and they call anyone with an amount due over 30 days," she says. Most patients actually appreciate the call because they had intended to pay, but just forgot. "So often, we hear, 'Oh, I've been meaning to call you.'" That reaction has also helped staff stay ahead of aging ARs and identify problems much earlier.
Tremendous Value
Dr. Morrow has heard from others who say she would be better off hiring a qualified in-office biller. She's not convinced. For one thing, the system stalls when that staff person is sick or on vacation, creating a ripple effect with lower revenue a few weeks down the road. Plus, when problems do arise, "there are so many places you have to look and so much to interpret. It's hard to know who to call and what to say."
Secondly, her experience is that even her highest bill with VisionWeb has been less than the cost of an hourly employee.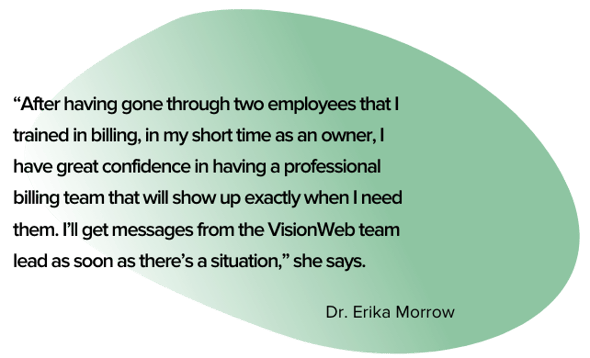 Plus, the VisionWeb team has helped her on-site staff understand the process better than she could. "I was trying to show staff members on the fly how to do verifications or bill an exam." VisionWeb offered training to make sure they are confident and doing everything correctly from the start."
Being a PM agnostic billing solution, VisionWeb's RCM team is very familiar with my practice management system. "Using a clearinghouse to check patient eligibility, my staff became much more adept at collecting the deductible. I have maybe 10 percent of my patients for whom I've overcollected, but I'll mail those patients a check. That's so much easier than trying to chase them down for deductibles," she says.
Leave it for the Pros
Revenue cycle management is not Dr. Morrow's forte – nor does she want it to be. "I only know as much as I know," she says. She gladly hired VisionWeb RCM to handle both medical and vision claims.
She is currently booked out for about two-and-a-half weeks, so she does periodically evaluate whether she's participating with the best plans. As a new practice, she appreciates that the vision plan networks drive patients to her office. "I get a lot of patients who come to me because they're in a vision plan – and many of them use their vision plan services and we discover that they'll need a medical evaluation as well. If I hadn't been on that vision plan, I may not have seen that patient."
---
Ready to Learn more about Revenue Cycle Management?

Revenue Cycle Management or "RCM" is the process of submitting a claim for reimbursement from beginning to end. When done properly, your office can increase payments while decreasing bad debt write-offs.
Even better, VisionWeb's service can do all the work for you. Our team handles virtually every aspect of the billing cycle for you. You pull the benefits and assist with missing claim information and we take care of the rest.
Fill out the form on the right and our billing experts will get in touch with you.
Request an RCM Consultation